Inclusion Europe considers closing remarks on Europe in Action Conference 2014
Last year, Inclusion Europe and Mencap held  the Europe in Action Conference.
The conference took place in Belfast.
Belfast is a city in Northern Ireland.
People from 23 countries went to the event.
People really enjoyed the event.
They said that it was very well organised.
They also said that it was important to hear from young self-advocates.
Inclusion Europe asked people what they want to talk about
At the next conference.
People said they wanted to talk about:
•    Families and relationships for people with intellectual disabilities.
•    People with intellectual disabilities being included in education.
•    People with intellectual disabilities being included in society.
You can read more about the conference here.
Inclusion Europe has received glowing feedback on its Europe in Action Conference 2014 entitled 'Growing up with an intellectual disability,' which took place in Belfast on 15-17 May.
The Conference, a collaborative effort with Mencap, the leading organisation representing people with intellectual disabilities in the United Kingdom, provided a platform for discussion on a wide variety of issues and drew its conclusions based on the opinions of delegates from 23 countries across Europe.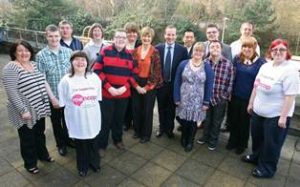 Among the hugely positive testimonials received by Inclusion Europe, Rosemary Murray of Barnardos, the UK's leading children's charity, listed the first-hand accounts from young people from Bulgaria among her highlights. Having spoken with young people with intellectual disabilities from Bulgaria in 2006, the charity was particularly pleased to hear about the progress being made in the country, and the fantastic, young self-advocates sharing their stories were a testament to that.
Appreciation was particularly reserved for the manner in which the event was carried out. Roy McConkey, a Professor of Developmental Disabilities at the University of Ulster, described the event as "professional and well organised yet both friendly and encouraging". Aimee Richardson, self-advocate and star of the hit Irish television series Punky, added to this speaking of her pride and the "marvelous" job done by the organisers of the conference.
With the Europe in Action Conference being an annual event, however, Inclusion Europe is always keen to hear of new ideas for subjects affecting people with intellectual disabilities to be discussed at upcoming conferences. Having received a wealth of ideas from delegates in attendance at the event, inclusive education, families and the development of relationships for people with intellectual disabilities proved to be particularly important. Other suggestions also included the importance of parents to young people with intellectual disabilities as well as accessibility issues and their social participation.
For more information on the Europe in Action 2014 Conference, you can read Inclusion Europe's press release on the event here or visit the conference's main site here.
Our work brings the voice of people with intellectual disabilities and their families where decisions about their future are made.
This has always been incredibly important. It is even more so with the Covid pandemic drastic impact on their rights and lives.
Being visible and vocal on issues directly affecting millions of people requires your support. 
Become Inclusion Europe supporter and help us keep doing our work.