Advocacy training on women empowerment: ``It's time for equality!``
"The UN CRPD states that countries must support women with disabilities. Women with intellectual disabilities need to get together and make their voices heard!" This is what our former vice-president Senada Halilčević said at the Advocacy Training on women empowerment, which Inclusion Europe held last week.
Nearly 40 participants from 13 European countries had come to talk about the multiple discriminations women with intellectual disabilities face, and how to tackle this issue.
One focus of the training was violence against women with intellectual disabilities, especially when it comes to women living in institutions. Inclusion Europe coordinated a project on this issue, with women in Croatia, Italy, Lithuania, Romania and the Netherlands being questioned about their experiences. At the training, participants learned about the many different types of violence that exist, for example physical, sexual or psychological violence. They also were told about the fact that some types of violence might not be easily recognised, for example giving someone medicine against their will, preventing someone from leaving the building or not caring for them when they are in pain.
Next to the interventions by self-advocates, representatives of other organisations had also come to share their knowledge: Manon Deshayes and Jessica Nguyen from the European Women's Lobby talked about the different types of discrimination women in Europe face, for example when it comes to the gender pay gap or the topic of care work, which is still predominantly carried out by women. They also mentioned how the work-life balance directive and the Social Pillar can help address these imbalances.
On the other hand, Moana Genevey from Equinet pointed out how women are also discriminated against when choosing their career, having their health costs covered or when travelling. She also explained how equality bodies can help women who want to fight against discrimination, and provided some success stories.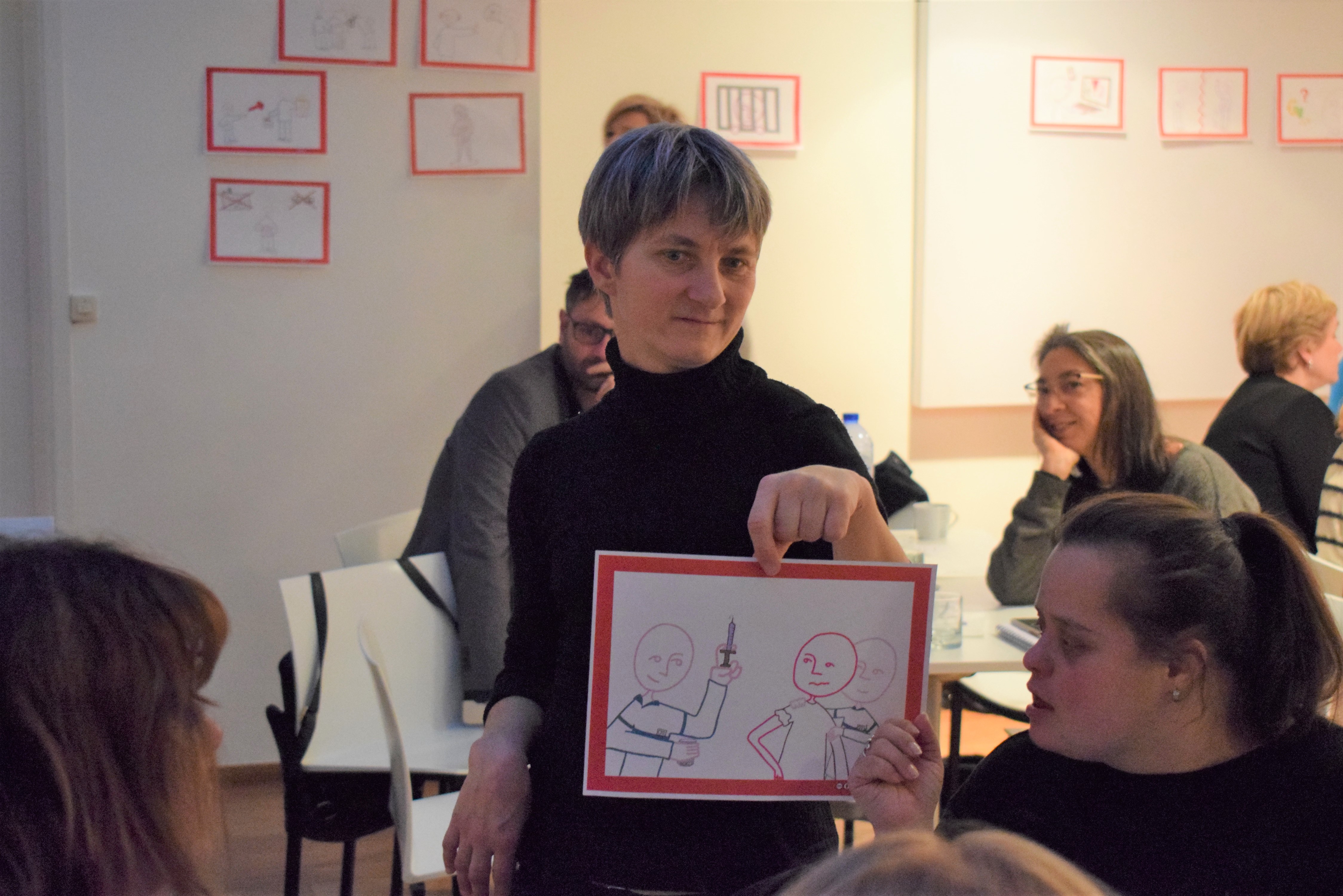 Meetings with MEPs
"It's time for equality" was therefore the message that training participants brought to the European Parliament the next day, when they met with the secretariat of the Committee on Women's Rights and Gender Equality (FEMM Committee), as well as with members of the European Parliament, namely:
John Howarth (Socialists & Democrats)
Marisa Matias (

European United Left – Nordic Green Left)

Predrag Fred Matić (Socialists & Democrats)

Javier Moreno Sánchez (Socialists & Democrats)
Kim van Sparrentak (Greens / European Free Alliance)
They discussed, amongst other things, the specific issues in their respective countries and how the European Parliament can help further advance the rights of women with disabilities. Self-advocates and family members made sure that MEPs are well aware of the struggles women with intellectual disabilities face, and urged them to ensure that their views are taken into account when talking about women's rights.
We would like to thank all participants, the said MEPs, Equinet and the European Women's Lobby for their involvement in the training. Women's rights are Human Rights, and the rights of people with disabilities are Human Rights, too.
"It's time for equality" – let's work for it together!
Notes:
Our work brings the voice of people with intellectual disabilities and their families where decisions about their future are made.
This has always been incredibly important. It is even more so with the Covid pandemic drastic impact on their rights and lives.
Being visible and vocal on issues directly affecting millions of people requires your support. 
Become Inclusion Europe supporter and help us keep doing our work.