If governments employed more people with disabilities we would have paid jobs and not be ignored - Tamara Byrne
Tamara Byrne was a speaker at the European Day of Persons with Disabilities, a conference organised by the European Commission and the European Disability Forum. The conference took place 24 November 2022 in Brussels.
Tamara has recently joined the EDF Youth Committee as a representative of Inclusion Europe.
This is what Tamara said during the conference: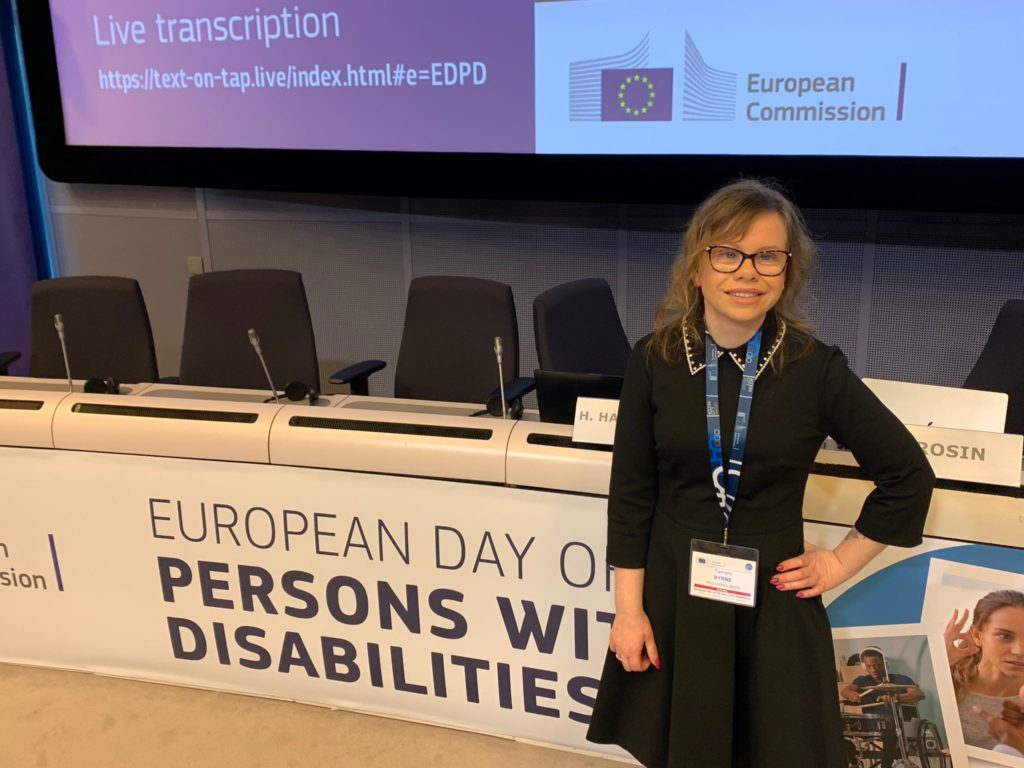 My name is Tamara Byrne, and I am a self-advocate from Ireland.
I am here with support from Inclusion Ireland, and also from Inclusion Europe.
I will talk about my life and the challenges I see for people with Intellectual.
Friends who supported me made me feel included at school
I went to a mainstream Montessori school, primary school, and secondary school.
What made me feel included the whole way through was friends who could give me support.
I got good support from Special Needs Assistants and teachers and I always felt comfortable to ask for support when I needed it.
Leaving school was terrible, I started to have depression and anxiety because I did not have choice like my friends.
I started going to a day-service. But it it was not enough for me. I wanted to be in college and to keep learning.
Higher education gave me direction in life
Eventually, I was able to go to Maynooth University to study Medieval Irish History and Media.
I felt so much better and happier with my life. College was so great for me and gave me a direction in life.
I don't want other people with disabilities to experience the anxiety and depression that I went through.
I want them to have choice.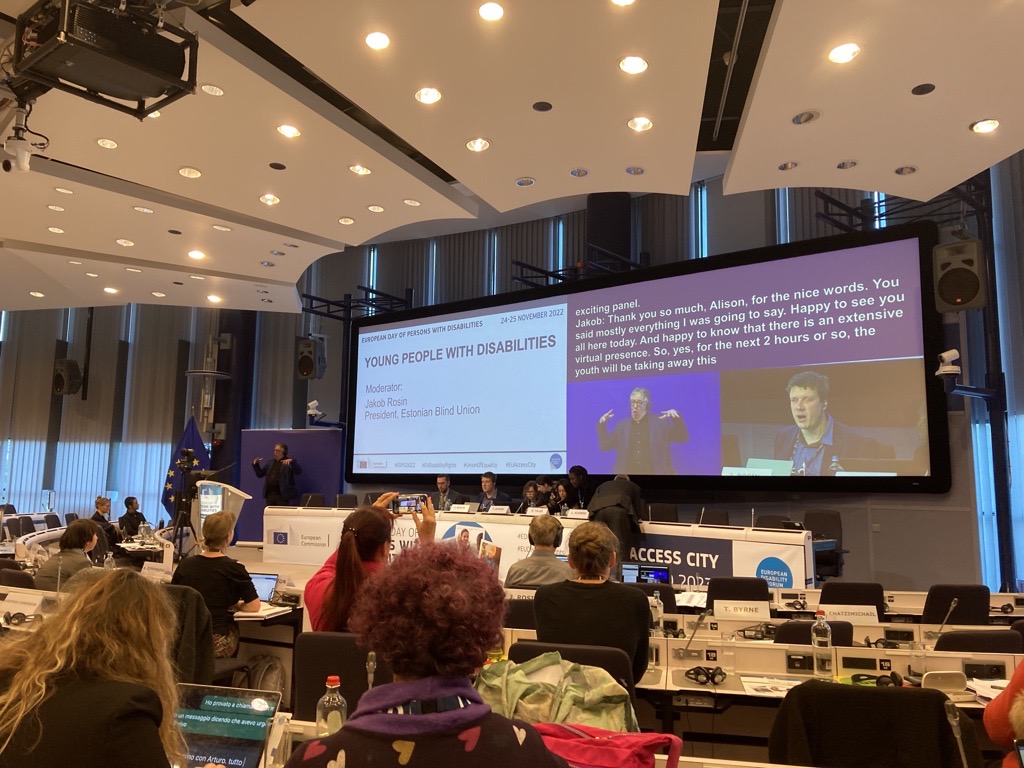 Radio show, talking to the media
During college I had my own show on the radio station which I produced and presented.
After college I was invited to produce a show for Liffey FM local radio station.
I took part in the Irish Human Rights and Equality Commission project about learning to speak up in the media about rights.
I was co-designer and tutor for the LEAP Project for Kare service which won Best Diversity and Inclusion Award at the 2022 Training Awards.
It is rare to hear people with intellectual disabilities talk at events and in the media.
No success finding a job
After college I applied for jobs and did interviews but even with all my experience.
I have had no success getting a paid job.
I am really passionate about public speaking.
Coming here to speak at Brussels feels life changing.
I feel really lucky to be here.
Lack of support for self-advocacy participation
I have been lucky in my life because my family has always encouraged me to make my own choices.
Because of this bank's and other organisations actually listen to me and I get to make decisions.
Not everyone is as lucky as me.
Because I only get only get a little bit of money from the government and I can't get a job it means my family have to help me a lot.
My family always support me because I only get to meet a keyworker once a month.
To do another course paying fees and getting the right supports for me would be hard.
It would be helpful if I could hire my own support person and not have to always rely on my family.
If I always had support when I need it, I would be able to say yes to things without worrying about how I will manage.
If governments employed more people with disabilities then we would have paid jobs and not be ignored.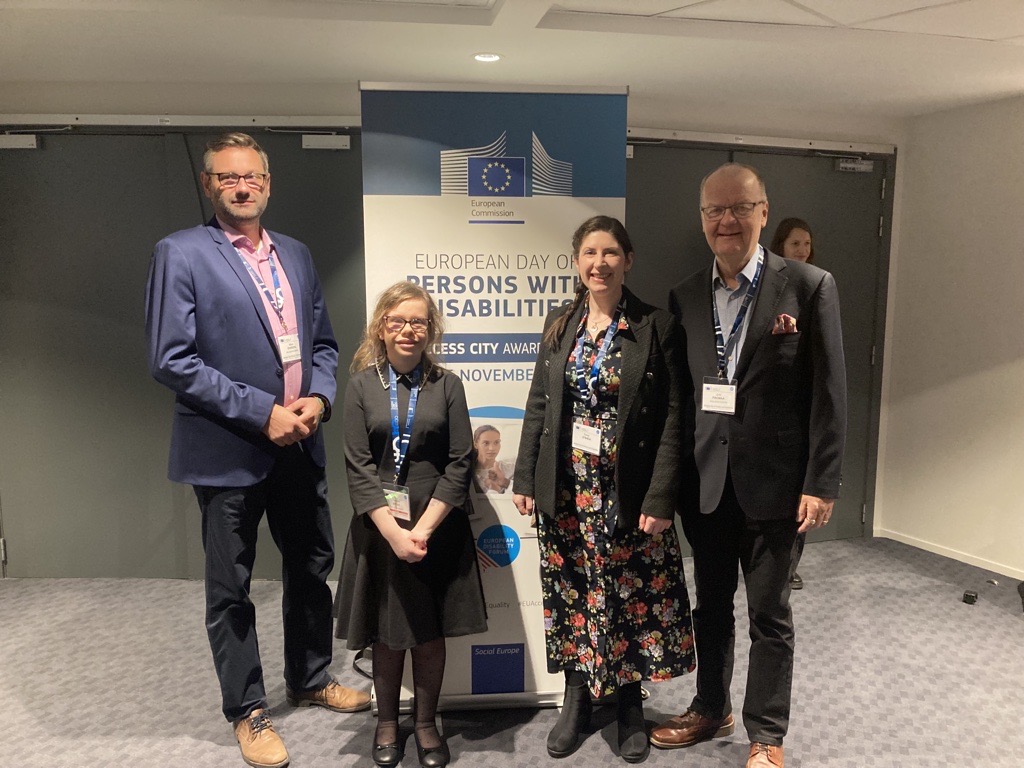 My right to vote
In Ireland I have a legal right to vote for what happens in my country.
I know I am lucky to have this right in the law because in lots of other countries they do not let people with intellectual disabilities vote.
Everyone with an intellectual disability should be allowed to make choices about where they are living, just like anyone else in the country.
To be inclusive
We all need support in life and a person with an intellectual disability is no different.
Information should be put in a way everyone can understand like easy to read or video so it is accessible for all.
People with an intellectual disability should be allowed equal rights in law and have the right to vote.
Being inclusive is not just inviting me to speak at a conference.
It is also about making the conference accessible for me by using language and words everyone here can understand.
Having time to prepare for speaking at this conference was really helpful and giving enough time is important for people with an intellectual disability.
Read also:
Our work brings the voice of people with intellectual disabilities and their families where decisions about their future are made.
This has always been incredibly important. It is even more so with the Covid pandemic drastic impact on their rights and lives.
Being visible and vocal on issues directly affecting millions of people requires your support. 
Become Inclusion Europe supporter and help us keep doing our work.