KLAPjob: supporting employment and inclusion of people with disabilities in the labour market
As part of the project "My Talents. For Diversity.", funded by the European Union's Rights, Equality and Citizenship Programme, Inclusion Europe organised series of six online events that serve as a platform to share examples of good practice of supported employment for people with intellectual disabilities. 
The first online event moderated my Milan Šveřepa, organised on Tuesday, 8 September from 14h00 – 16h00 CEST was about work developed with KLAPjob, a project of Lev, whose aim is to get more people with learning disabilities into the labor market. Joining the call were Claus Hansen, Tine Stampe and Bjørn Burkal, KLAPjob ambassador. 
Lev is a private nationwide association for people with intellectual disabilities, relatives and other interested parties – formed in 1952. The financial basis for Lev's work is largely due to the support of the association's currently approximately 10,000 members and other interested parties. 
KLAPjob is an initiative under the association Lev, which does gentle jobs and flex jobs for people with intellectual disabilities and other cognitive difficulties. That is, jobs for people who, for example, have autism, ADHD, spasticity, epilepsy, muscle wasting or acquired brain damage, which means that they need support to enter the ordinary labor market. 
KLAPjob has agreements with municipalities, companies and organizations throughout the country.  
Their job consultants are divided into two large districts "Eastern Denmark" and "Western Denmark". They have created over 3600 jobs for early retirees – ad they are ready to create even more! 
Lev estimates that 30.000 persons in Denmark are suited for a KLAPjob. These persons all receive disability pensions of 2.500 Euro per month, which just covers a decent standard of living. The KLAPjob employee receive 5-6 Euro per hour (approximately 33% of a minimum wage). With a 20-hour job, this sums up to 495 Euro per month. The companies can obtain 3 Euro reduction on the wage per hour. 
KLAPjob
makes it easy to fulfill the dream of a job
KLAPjob always has over 200 vacancies available. At the first meeting between the candidate and the KLAPjob consultant, the consultant makes sure to make the job wishes very concrete, listen and translate into realistic options, suggest concrete, vacancies immediately and be specific in relation to what each job requires. The KLAPjob consultant is always based on the candidate's competencies and support needs, so that there is always a focus on the work and not on the disability as a limitation. 
The dream is to be part of the community
There are great benefits for the whole community. The employees achieve larger self-esteem, they better cope with everyday life and they get social recognition from work mates and others. The companies achieve stable and enthusiastic employees, caring consideration among all the staff and appreciation for their social responsibility. The municipalities achieve clients who need less supportive social benefits and sheltered workshops available for persons with larger support needs. 
Lev believes that persons with intellectual disabilities contribute to a rich and diverse society. 
"It is an asset for a company to employ persons with intellectual disabilities."

"It is not only about the income but also about the recognition".  – Milan Šveřepa 
Persons with intellectual disabilities have a right to decide where and how they want to work. Lev insists on the right to self-determination, security, personal development and prosperity for persons with intellectual disabilities. We give people with disabilities the right to choose the kind of job they want. 

"Persons with intellectual disabilities have a right to decide where and how they want to work".

"End stigmatization of people with disabilities, it is a great cause. Having the job helped me to get new social roles. The way KLAPjob does it is wonderful: to be without that support, without having "social worker" behind your back all the time." Bjørn Burkal, KLAPjob ambassador 
 Watch the online event:

More information about the MTFD project here.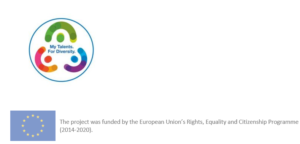 Our work brings the voice of people with intellectual disabilities and their families where decisions about their future are made.
This has always been incredibly important. It is even more so with the Covid pandemic drastic impact on their rights and lives.
Being visible and vocal on issues directly affecting millions of people requires your support. 
Become Inclusion Europe supporter and help us keep doing our work.