``Assistive technologies could be of incalculable benefit. But they also have a flip-side that could rapidly intensify exclusion``
Funka, a company focusing on accessibility, asked our former President Maureen Piggot three questions about accessibility. We are re-publishing the interview here:
Based on your experience in cognitive disabilities, how can we make sure all individuals can benefit from the technical evolution?
The new technologies have assistive applications that could be of incalculable benefit to people with cognitive disabilities if used to support autonomy, access to information, learning, communication, personal relationships, complex decisions and day to day transactions.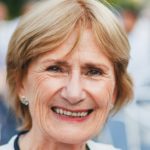 But these technologies also have a flip-side that could rapidly intensify exclusion.
Releasing the potential and minimising the risks requires direct involvement of disabled people, their families, friends and representative organisations in all aspects of the development and supply of mainstream and specialist technology.
People with cognitive disabilities are not one group but they are children, adults and older people from diverse backgrounds, some with identified conditions and all with widely different experiences. The impairment itself is hidden as it involves functions like learning, memory, managing time and other abstract concepts. Similarly, the barriers can be difficult to describe, making it harder for innovators to imagine the potential solutions.
Action is needed to increase the number and diversity of people able to bring their expertise into the processes of research and development; standardisation and advocating for relevant, accessible mainstream and assistive technology.
Disabled people's organisations play an important role to identify experts, and industry should make sure to cooperate with them to stimulate innovation, develop new markets and better products that meet accessibility requirements.
What innovative assistive technology or accessibility features would you like to see developed in the near future?
I'd like to see the advances in search and machine-learning technology used to interpret and re-present content in more understandable forms, shaped by the user's preferences and using mixed media as appropriate.
I'd also like to see serious games, other learning applications, augmented and alternative communication (AAC) and decision-support made fully accessible to individuals who need them, including people intellectual disabilities.
What I don't want to see is technology being used to continue institutionalisation. There are already many examples of monitoring and surveillance devices introduced without the consent of the person concerned.
These are particularly common in services for the elderly but are increasingly being introduced into intellectual disability and autism services. Control, intrusion and interference is a concern for all of us. Elderly and disabled people have the same rights. Upholding them is of even greater urgency.
What is the most important step for Europe when it comes to inclusion?
The most important step is to end the segregation that signals it's okay to treat some people differently.
While some children are excluded from school altogether or forced to go to special schools because of their disability we will never learn how to be inclusive.
The most extreme form of segregation is experienced by the people who are given no alternative but to live in institutions, cut off from their communities and denied the opportunity of a normal life and relationships. For many this is from birth or early childhood. They are the forgotten Europeans.
To take Europe forward each member state should commit to a drawing up a plan to end the use of institutions by maximising the use of EU and national funds:
to prevent admissions through supporting families to care and to plan for the future
to develop facilities and services to assist residents of institutions to find and move into appropriate housing with the personal assistance and social supports they need
Europe has some impressive legislation on rights and inclusion at national and international level. The EU ratification of the UNCRPD was a bold step forward. In the world of 'bricks and mortar' there is improving access to public transport and buildings, even historic buildings. With the Procurement Directive, the Web Accessibility Directive and the European Accessibility Act we will see more inclusion in the digital world.
By ending segregation we will finally achieve progress in real social inclusion.
Our work brings the voice of people with intellectual disabilities and their families where decisions about their future are made.
This has always been incredibly important. It is even more so with the Covid pandemic drastic impact on their rights and lives.
Being visible and vocal on issues directly affecting millions of people requires your support. 
Become Inclusion Europe supporter and help us keep doing our work.