Easy-to-read information is easier to
 understand.
Easy-to-read information is important
for people with intellectual disabilities.
It is important so they can:
Learn new things.

Take part in society.

Know their rights and stand up for them.

Make their own choices.
Easy-to-read rules
There are rules how to make easy-to-read.
The rules are available in many languages.
Easy-to-read logo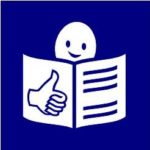 The picture is called "the easy-to-read logo".
Inclusion Europe owns this picture.
You do not need to ask us for specific permission to use the logo, as long as:
your publication respects easy-to-read guidelines, and
include this text in your publication: "© European Easy-to-Read Logo: Inclusion Europe. More information at www.inclusion-europe.eu/easy-to-read"
More details about how to use the logo (.pdf).
Checklist on easy-to-read texts
Here is a simplified version (.pdf) of the guidelines, with the key-rules checklist.
Frequently asked questions about easy to read.
Read our easy-to-read magazine
Inclusion Europe publishes a magazine in easy-to-read.
The newsletter is called "Europe for us".
Europe of us is published in 7 languages.
Read our articles in easy-to-read:
Our work brings the voice of people with intellectual disabilities and their families where decisions about their future are made.
This has always been incredibly important. It is even more so with the Covid pandemic drastic impact on their rights and lives.
Being visible and vocal on issues directly affecting millions of people requires your support. 
Become Inclusion Europe supporter and help us keep doing our work.