``Voting must be accessible to everyone``
How to improve political participation of people with disabilities? This was the question an event at the European Parliament co-organised by Inclusion Europe addressed. We were glad to share some key messages:
▶️ In more than half of EU member states, people under guardianship have either no or limited voting rights: This needs to change urgently! The European Parliament can help getting this underway, for example with a resolution asking member states to address this problem.
▶️ The right to vote is one thing, the other thing is accessibility. We need easy-to-read material and training for everyone involved in the voting process.
▶️ Self-advocate Dolores Pessarossi from our member Nous aussi told the audience that they created a poster in easy-to-read on how to vote. She stressed that "voting must be accessible to everyone". (Read her speech in full here.)
▶️ Beyond the right to vote, there's also the right to stand for election. People under guardianship are prevented from or restricted in this in 20 European countries. This is totally undemocratic and needs to stop!
Thank you to all other participating organisations: EASPD, the European Disability Forum, Mental Health Europe, the European Network on Independent Living and COFACE Families Europe, as well as to the Members of the European Parliament who hosted us and spoke:
Pascal Durand (Renew Europe) highlighted the broader perspective of discrimination of people with disabilities: "We need a cross-cutting directive for people with disabilities. Such a directive is currently stuck at the Council, but we need it to stop just working on specific areas."
.@PDurandOfficiel: "Il nous faut une directive transversale pour les gens en situation de handicap. Elle est en ce moment bloquée au conseil, mais en fait c'est une telle directive dont on a besoin pour arrêter de seulement travailler sur des domaines spécifiques." pic.twitter.com/kaKsnYHQ88

— Inclusion Europe (@InclusionEurope) November 19, 2019
Sylvie Guillaume (S&D) explained that "access to politics is a right, it can not be circumvented – documents must be accessible and understandable."
.@sylvieguillaume "L'accès à la politique est un droit, ce n'est pas contournable. Les documents doivent être accessibles et compréhensibles." pic.twitter.com/iRfgM0uJHo

— Inclusion Europe (@InclusionEurope) November 19, 2019
Tilly Metz (Greens / European Free Alliance) stated the following:
.@MetzTilly: "Denying the right to vote to people with disabilities is a real democratic deficit. This needs to change, and it needs to change now." pic.twitter.com/lfxsYGSLls

— Inclusion Europe (@InclusionEurope) November 19, 2019
"My name is Dolores Pessarossi.
I represent the association 'Nous aussi.'
The association 'Nous Aussi' brings together
people with intellectual disabilities
who want to voice their opinion
and participate in the decisions that concern them.
The European Union concerns me. Europe concerns us all.
We have proven this by voting at the European elections
for our MEPs.
Even if the right to vote was restored in France,
for people under guardianship
it is sometimes difficult to vote.
For example,
people who can not read have difficulty voting.
The candidates' pictures should be put on the ballot.
Elections must be accessible to everyone.
Candidates should provide an easy-to-read version
of their election manifesto.
My association develops tools to make the right to vote possible.
We made a poster in easy-to-read language.
But there are also stereotypes.
Some people think that people with intellectual disabilities
do not have the ability to vote.
That politics does not interest us.
That this is too complicated.
But this idea is wrong.
With the right support, political participation of everyone is possible."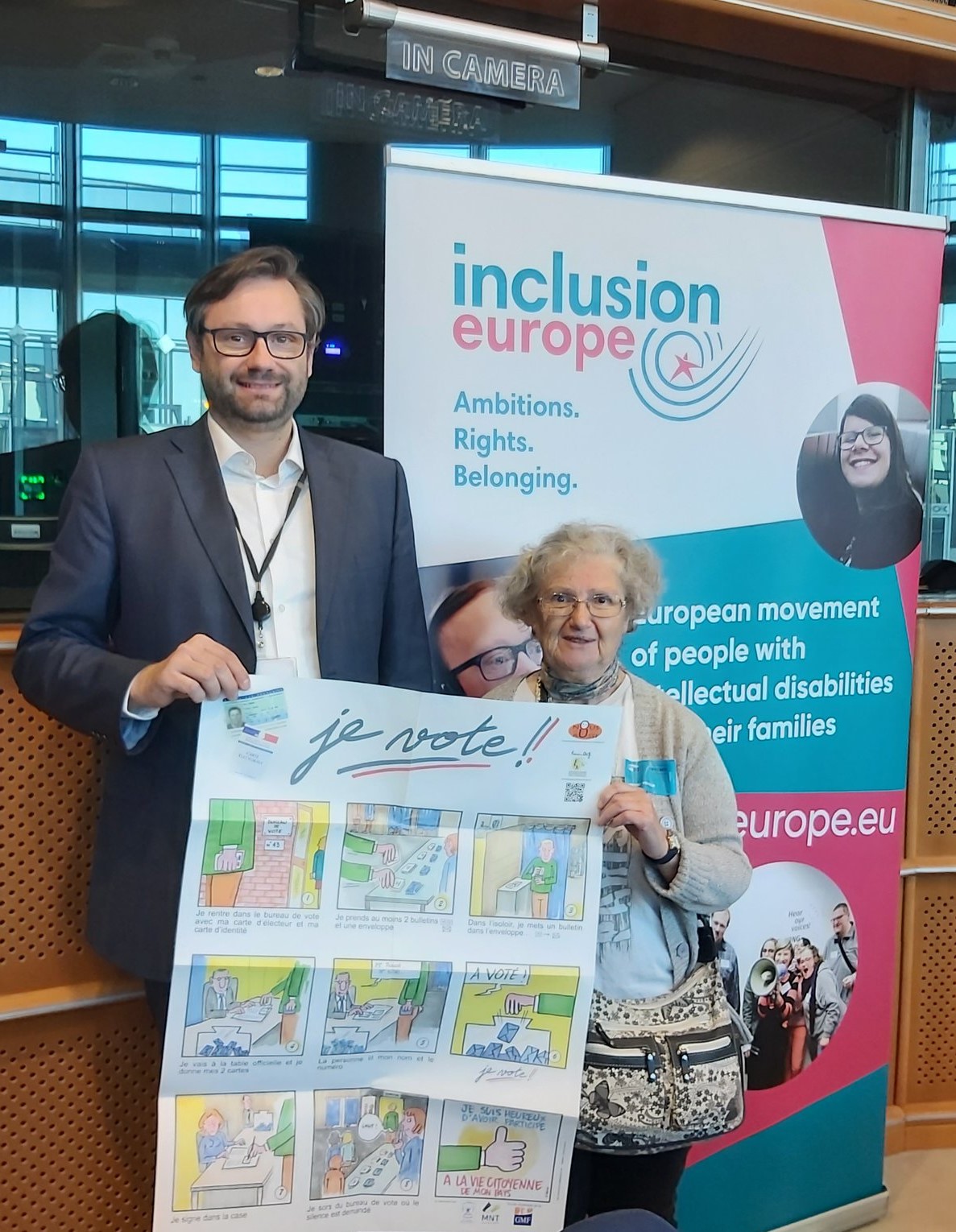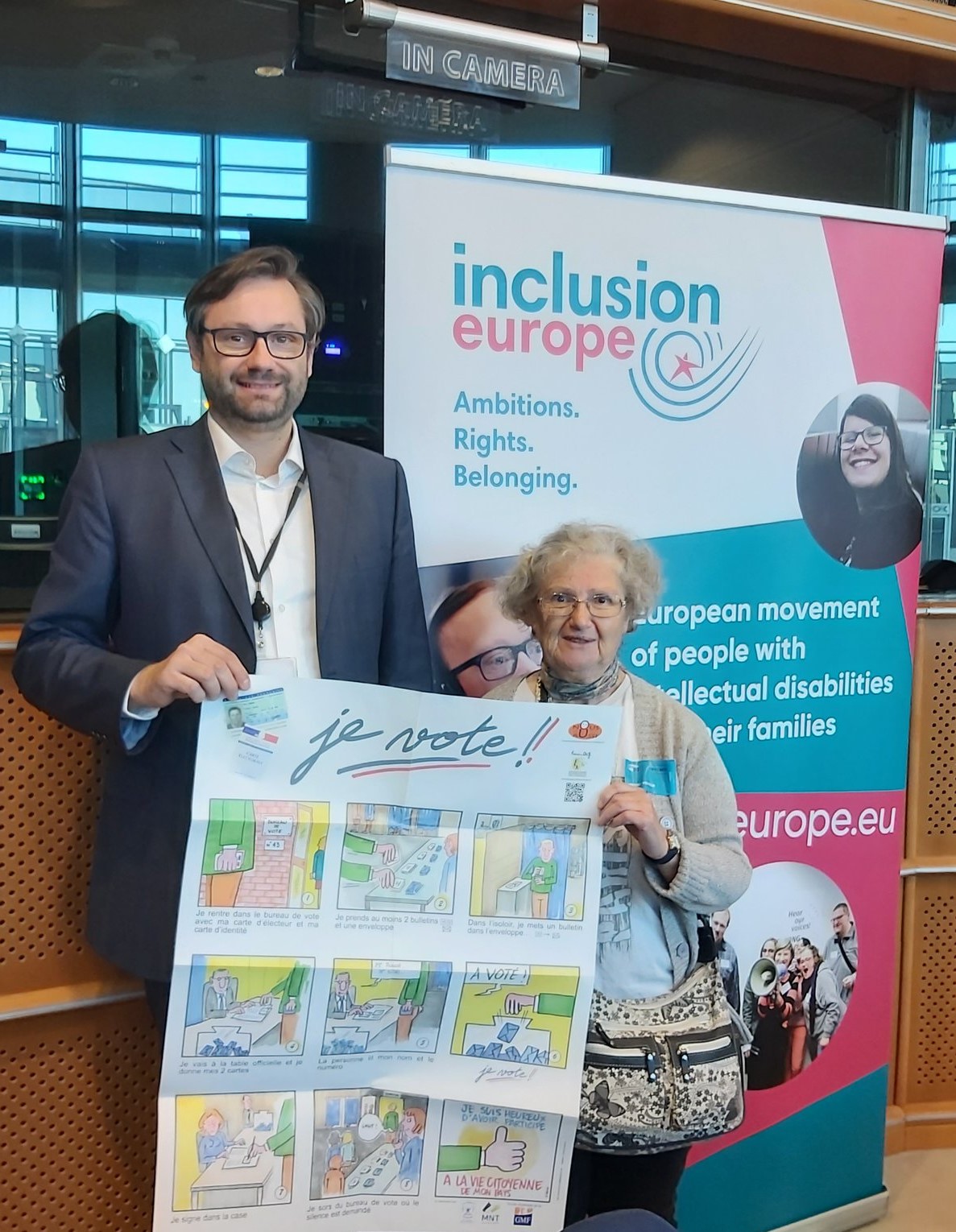 Looking for more reasons on why people with intellectual disabilities should get the right to vote? Read on
Our work brings the voice of people with intellectual disabilities and their families where decisions about their future are made.
This has always been incredibly important. It is even more so with the Covid pandemic drastic impact on their rights and lives.
Being visible and vocal on issues directly affecting millions of people requires your support. 
Become Inclusion Europe supporter and help us keep doing our work.