I am no longer invisible, for the first time people notice me in society - Senada Halilčević for End Segregation campaign
Inclusion Europe interviewed Senada Halilčević, as part of the End Segregation campaign. Senada talks about her life at institutions, ending segregation, and how participation in the community and independent living is vital for people with intellectual disabilities. Senada Halilčević was the chair of the European Platform of Self-advocates and Vice-President of Inclusion Europe.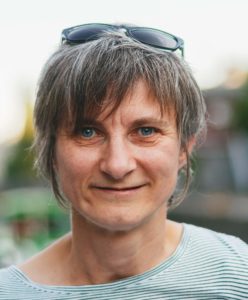 What does ending segregation mean to you?
Dealing with barriers to segregation has been going on since I was born. As a child, I didn't experience it that much until puberty during all my friends started going out, but I couldn't. While we were in the institution, they always told us these "were foster children", and "she is a person with a disability" so they label us. I decided to resist it and become independent, and with my work and effort, I managed to succeed.
For me, the end of segregation means that I can be part of the community in which I live, not only the community of people with intellectual disabilities but also people without intellectual disabilities and disabilities in general. I can work, study, train, meet new people and make friends, go out and have fun. After the end of segregation, I am no longer invisible, for the first time people notice me in society. Now people can understand that I am much more than my disability. Today I am Senada Halilčević, a person with a disability, but I am much more than that. I am Senada Halilčević, sister, daughter, friend, colleague, athlete, employee, and every day I try to show that I can achieve everything I want.
Have you ever lived in an institution and if yes can you describe your life in the institution?
At the age of one, I went to the institution occasionally, but at the age of 7 when I started elementary school, I was placed in an institution as part of schooling. During school, I could go home over the holidays. And while I was at Caritas Home, I could leave the institution when I went to the doctor, when the Home organized trips or excursions, and during the Christmas and Easter holidays. As a child and during elementary school, I was placed in the institution of Dr. Miroslav Zotović. The other institution was the Dubrava Center for Education. I finished high school at that institution. It was a four-year school for textile knitters. I started high school at the age of 15 and graduated when I was 20 years old. I went to the third institution at the age of 23 and I stayed there for a full 7 years. I don't remember much about my childhood. I remember that it was difficult for me every time I was leaving home. Also, it was hard for me because at school my class was separated from other children who had no difficulties. We had no one to hang out with. How can someone learn about a person with a disability when they have never been in contact with one? Life in the institution had its pros and cons. I did not like the institution because we couldn't go outside to hang out with other people. Also, we couldn't develop our skills and decide even the basic things in our lives. Some of the staff at the institution were good and some were bad, so I started arguing with them. One time an employee raised her hand to me, wanting to hit me. I didn't have a chance to do the things I wanted to do. I couldn't see the family when I wanted to. I couldn't meet new people. I didn't have the opportunity to learn about the things that interested me. I didn't know what life outside the institution looked like. A lot of things were limited to me. Life is much more beautiful outside the institution.
Why do you think community-based living is important?
Living in a community is important both for people with intellectual disabilities and for society itself. Because then citizens can see how much quality people with intellectual disabilities actually have and how much they can contribute to society. As I said, people with intellectual disabilities become visible as themselves, not just as their disability. All people with intellectual disabilities that I know have certain qualities, and when they recognized and work on them, they can contribute a lot. This gives people with intellectual disabilities happiness and satisfaction because they are finally involved and part of something bigger, they have the opportunity to make more independent decisions about their lives, they are not so dependent on the state and their families. They can make friends, form relationships, choose hobbies, look for a job with support, and live as fully as any other citizen. We know how difficult it was for us not to go anywhere during the coronavirus pandemic and how much this impacted our mental health, we need to ask ourselves how it is for people with intellectual disabilities who are in institutions all their lives.
What would you like to be achieved in terms of integration and inclusion of people with intellectual disabilities?
I would like to enable all people with intellectual disabilities to recognize and use their potential to the maximum. Show the world how much they are worth and allow them to participate fully in society. I would like their voice to be heard, to talk about their needs and their possibilities, and to show everyone how much can do. I would also like society to understand, through the participation of people with intellectual disabilities, how valuable they are and what they can do, and that other people start accepting them as equals.
When they first meet me, most people are prejudiced against me, because the first thing they see in me is my disability. But over time, most of them get rid of these prejudices when they get to know me better because they realize that I am much more. The obstacles I faced from the state and society motivated me to break down the barrier of stigmatization towards myself and people with intellectual disabilities and to show people around me what I can do.
What kind of support do people with intellectual disabilities need when living outside of institutions?
Associations and organizations for people with intellectual disabilities must provide support and assistance in learning how to live independently in the community. I believe that assistants are important in the lives of people with intellectual disabilities, but assistants who will teach them how to do certain things, not do them for them. We need a support system that will recognize what people with intellectual disabilities are good at, empower them in the parts of life where it is needed, fight for their rights and make them visible. In addition, I believe that the support of family members themselves, but friends, is important to live a more fulfilling and independent life outside the institutions; to have a life worthy of every human.
Inclusion Europe wants the segregation of people with intellectual disabilities to end by 2030! With our members, other disability organisations, activists, and experts, we fight for a Europe where people with intellectual disabilities enjoy equal rights and participate fully in all aspects of life.
Our work brings the voice of people with intellectual disabilities and their families where decisions about their future are made.
This has always been incredibly important. It is even more so with the Covid pandemic drastic impact on their rights and lives.
Being visible and vocal on issues directly affecting millions of people requires your support. 
Become Inclusion Europe supporter and help us keep doing our work.