FEAPS grants 11 scholarships for Master's courses in the sector of intellectual disabilities
FEAPS is a Spanish organisation.
It fights for the rights of people with disabilities.
FEAPS is helping people working with persons with disabilities
to get a degree called a master's.
FEAPS is paying for a big part of the costs of the studies.
They believe that going back to university will improve
the quality of service the people give to persons of disabilities.
The Spanish organisation for the rights of people with intellectual disabilities, FEAPS recently launched a call for applications for professional scholarships for two Master Degrees related to working with people with intellectual or developmental disabilities.
The Postgraduate Degree in Mental Illness and Behavior Disorders in Persons with Intellectual Disabilities, taught at the International University of Catalonia is an advanced course in Barcelona between October 2014 and June 2015. FEAPS is granting four grants to professionals from its member organisations.
More information on this graduate degree can be found at the following link.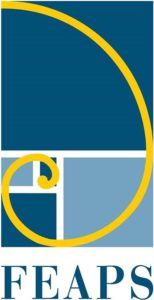 At the same time, for the 3rd year running, the Autonomous University of Madrid (UAM), in collaboration with FEAPS, will also offer a Master's  in Support for people with intellectual and developmental disabilities and their families: psychological processes and personal quality of life and family. Classes will take place between October 2014 and June 2016, and seven places are reserved for professionals from FEAPS's member associations.
More information about this master's is available at this link.
FEAPS believes that by training staff they will help their member associations work with a group of highly qualified professionals, who are simultaneously familiar with "evidence-based paradigms and support for people with intellectual disabilities or developmental practices, who also have a mental illness and behavioural disorders." Staff will also receive training in "the models and paradigms of intellectual disability, neurocognitive and psychosocial processes, quality of personal and family life and family centred practice." All receivers of grants will join the FEAPS Quality of life network after graduations.
In both cases, FEAPS will fund 75% of the tuition fees of the professionals chosen. The remaining tuition cost (25%), study materials, travel expenses, meals, lodging and related training sessions in Barcelona and Madrid are the responsibility of the student.
Applications in both cases must be made before June 30.
More information about the application procedure can be found, in Spanish, on the FEAPS website.
This year FEAPS turns 50. During the past five decades, the organisation has concentrated its efforts on becoming what they are today: a determined social movement that helps persons with intellectual or developmental disabilities and their families enhance their quality of life by promoting their inclusion as full citizens in a just society. From 1964 until the present day, FEAPS has consolidated an Associative Movement consisting of almost 900 institutions across Spain, representing more than 139,700 people with intellectual or developmental disabilities, together with 235,000 family members, and a team of up to 40,000 professionals and 8.000 volunteers.
Our work brings the voice of people with intellectual disabilities and their families where decisions about their future are made.
This has always been incredibly important. It is even more so with the Covid pandemic drastic impact on their rights and lives.
Being visible and vocal on issues directly affecting millions of people requires your support. 
Become Inclusion Europe supporter and help us keep doing our work.