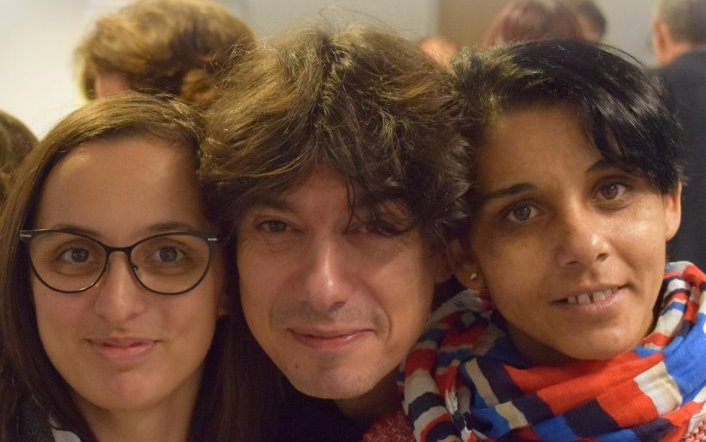 Andreea, Zoltán und Elisabeta sind gute Freunde. Elisabeta hat viel für ihre Inklusion gekämpft!

Klicken Sie auf ein fett gedrucktes Wort, um seine Bedeutung zu erfahren.
Inclusion Europe feiert dieses Jahr seinen 30. Geburtstag.
Wir wollen mit Ihnen zusammen feiern!
Wir wollen ein Video machen.
Das Video soll zeigen, was die Bewegung für Inklusion
in den letzten 30 Jahren erreicht hat.
Inklusion ist, wenn alle Menschen Teil der Gesellschaft sind
und niemand ausgeschlossen ist.
Wie hat die Inklusion Ihr Leben verändert?
Lassen Sie es uns wissen!
Wer kann mitmachen?
Alle Selbstvertreter und Selbstvertreterinnen und ihre Familienmitglieder können mitmachen.
Wie kann ich mitmachen?
Bitte senden Sie uns ein kurzes Video.
Das Video sollte nicht länger als 15 Sekunden sein.
In dem Video sagen Sie bitte das Ende von diesem Satz:
"Wegen der Inklusion …"
(zum Beispiel, "kann ich jetzt …", "bin ich jetzt …", "habe ich jetzt …")
Das Video kann mit einer Filmkamera gefilmt werden.
Sie können auch mit einem Smartphone
oder einem anderen Gerät filmen.
Einverständniserklärung
Eine Einverständniserklärung ist ein Text.
In dem Text steht, dass Sie uns die Erlaubnis geben,
Ihr Video zu verwenden.
Wichtig: Bitte füllen Sie die Einverständniserklärung aus.
Bitte unterschreiben Sie sie.
Bitte senden Sie uns die Einverständniserklärung
zusammen mit dem Video.
Ansonsten können wir das Video nicht verwenden.
Kann ich in dem Video auf Deutsch sprechen?
Ja, Sie können gerne auf Deutsch sprechen.
Sie können auch in einer anderen Sprache sprechen.
Lassen Sie uns bitte wissen, in welcher Sprache Sie sprechen.
Dann können wir übersetzen,
was Sie in dem Video sagen.
Wie soll ich das Video und die Einverständniserklärung senden?
Videodateien sind sehr groß.
Darum können Sie uns die Dateien nicht per E-mail senden.
Bitte benutzen Sie WeTransfer.
Mit WeTransfer können Sie große Dateien schicken.
Auf WeTransfer, klicken Sie bitte auf "Weiter zu Free".
Das heißt, dass Sie die kostenlose Version benutzen möchten.
Sie werden dann auf eine neue Seite weitergeleitet.
Klicken Sie dort bitte auf "Dateien hinzufügen".
Bitte fügen Sie Ihr Video und Ihre Einverständniserklärung hinzu.
Dann müssen Sie diese Felder ausfüllen:
"Email eines Freundes"
Bitte geben Sie hier "trainee@inclusion-europe.org" ein.
"Ihre Email"
Bitte geben Sie Ihre eigene Email-Adresse ein.
"Nachricht"
Bitte geben Sie "Video", Ihren Namen und Ihr Land als Nachricht ein.
Dann klicken Sie bitte auf "Übertragung".
Und das Video wird an uns gesendet!
Was ist die Frist, um das Video zu senden?
Wir haben die Frist verlängert.
Bitte senden Sie uns Ihr Video bis zum 11. November 2018.
Teilen Sie diesen Artikel mit anderen!
Wollen Sie uns helfen?
Dann lassen Sie andere Leute wissen,
dass sie uns ihre Videos zuschicken können!
Sie können diesen Artikel in den Sozialen Medien teilen.
Sie können den Hashtag #MyInclusionStory benutzen.
Das ist Englisch.
Man spricht es so aus: "Mei Inkluschn Storie".
Das heißt: Meine Geschichte der Inklusion.
Wir freuen uns auf Ihre Videos!
Weitere Informationen
Lesen Sie das Interview mit unserem Inklusionshelden Gerhard Furtner.
Sie können noch mehr Neuigkeiten über unseren Geburtstag
auf Facebook und Twitter finden (auf Englisch).[:en]

Click on a word which is in bold to read what it means.
Inclusion Europe celebrates its 30th birthday this year.
We want you to celebrate with us!
We would like to create a video.
The video should show what the inclusion movement has achieved
in the last 30 years.
How has inclusion improved your life?
What has changed?
Let us know!
Who can participate?
We invite self-advocates and family members to participate.
How can I participate?
Please send us a short video.
The video should not be longer than 15 seconds.
In the video, please complete the sentence:
"Thanks to inclusion, I …"
(for example, "I now can …", "I now am …", "I now have…")
The video can be filmed with a camera,
but also with a smartphone or other device.
Consent form
Important: Please fill in the consent form and send it to us together with the video.
Otherwise we will not be able to use the video.
Can I speak in my own language in the video?
Yes, please speak in your own language.
But let us know which country you are from.
So we can translate what you said.
How should I send the video and the consent form?
You will not be able to e-mail us the video directly.
The file will be too big.
Because of this, please use the tool WeTransfer.
WeTransfer lets you send bigger files.
On WeTransfer, you need to click "Take me to free".
Then you need to click on "Add your files".
Please add your video and your consent form.
You need to fill in these fields:
"Email to"
Please put trainee@inclusion-europe.org.
"Your email"
Please put your own e-mail address.
Message
Please put "Video campaign", your name and your country as the message.
Then, click on "Transfer".
And we will receive your video!
When is the deadline?
We have extended the deadline.
The new deadline for sending the videos is 11 November 2018.
Share the news!
Do you want to help us? Share the news!
Let others know that we would like to have their videos!
You can post about it on your accounts on social media.
You can use the hashtag #MyInclusionStory.
We are looking forward to getting your videos!
More information
Have a look at our Inclusion Heroes!
We interviewed a number of people for our birthday.
You can find all our birthday news on Facebook and Twitter.[:fr]

Cliquez sur un mot en gras pour savoir ce qu'il veut dire.
Inclusion Europe fête ses 30 ans cette année.
Nous voudrions que vous le fêtiez avec nous !
Nous aimerions créer une vidéo.
La vidéo devrait montrer ce que le mouvement d'inclusion a réalisé
au cours des 30 dernières années.
Comment l'inclusion a-t-elle amélioré votre vie ?
Qu'est-ce qui a changé ?
Faites-le nous savoir !
Qui peut participer?
Nous invitons les auto-représentants et les membres de la famille à participer.
Comment puis-je participer ?
Envoyez-nous une courte vidéo.
La vidéo ne doit pas dépasser 15 secondes.
Dans la vidéo, veuillez compléter la phrase:
« Grâce à l'inclusion, je … »
(par exemple, « je peux maintenant … », « je suis maintenant … », « j'ai maintenant … »)
La vidéo peut être filmée avec une caméra,
mais aussi avec un smartphone ou un autre appareil.
Accord écrit
Important: Veuillez remplir l'accord écrit et nous l'envoyer avec la vidéo.
Sinon, nous ne pourrons pas utiliser la vidéo.
Puis-je parler dans ma propre langue dans la vidéo ?
Oui, vous pouvez parler dans votre propre langue.
Mais dites-nous de quel pays vous venez.
Nous pouvons alors traduire ce que vous avez dit.
Comment dois-je envoyer la vidéo et le formulaire de consentement ?
Vous ne pourrez pas nous envoyer directement la vidéo par courrier électronique.
Le fichier sera trop gros.
Pour cette raison, veuillez utiliser l'outil WeTransfer.
WeTransfer vous permet d'envoyer des fichiers plus volumineux.
Sur WeTransfer, vous devez cliquer sur « Vers la version gratuite ».
Ensuite, vous devez cliquer sur « Ajouter vos fichiers ».
Veuillez ajouter votre vidéo et votre accord écrit.
Vous devez remplir ces champs:
« E-mail à »
Veuillez mettre trainee@inclusion-europe.org.
« Votre email »
Ecrivez votre propre adresse e-mail.
« Message »
Veuillez écrire « Campagne vidéo », votre nom et votre pays comme message.
Ensuite, cliquez sur « Transférer ».
Et nous recevrons votre vidéo !
Quelle est la date limite?
On a prologé la date limite.
La date limite d'envoi des vidéos est maintenant le 11 novembre 2018.
Faites-le savoir à vos amis !
Voulez-vous nous aider ?
Faites savoir à vos amis que nous aimerions avoir leurs vidéos!
Vous pouvez poster à ce sujet sur vos comptes sur les réseaux sociaux.
Vous pouvez utiliser le hashtag #MyInclusionStory.
Cela veut dire « Mon histoire de l'inclusion ».
Nous attendons vos vidéos avec impatience !
Plus d'informations
Lisez l'histoire de notre héros de l'inclusion, Charles !
Vous trouverez toutes les nouvelles de notre anniversaire sur Facebook et Twitter (en anglais).[:]