``It is a crime that is seriously underreported``
Cybercrime and hate speech are becoming more and more prevalent nowadays. This also makes people with intellectual disabilities become a potential target. The be.safe project, an initiative Inclusion Europe launched together with project partners from Czechia, North Macedonia, Poland and Portugal, aims to tackle this issue, by providing guidance on how to safely use the internet. The final event of the project took place in Brussels at the European Economic and Social Committee (EESC).
Self-advocates had been involved in different ways during the project, for example through training courses or in the development of materials. It was therefore also a self-advocate who gave his final assessment: Simon Lesur from Inclusion Europe's member "Papillons Blancs de Dunkerque" explained that he learned a lot when taking part in the project, and added that "the easy-to-read guide on how the police can help me when I became a victim of crime should be disseminated everywhere."
Milan Šveřepa pointed out how "hundreds of thousands of people with intellectual disabilities are still not allowed to access the internet, have their own e-mail addresses, use online platforms…" According to Inclusion Europe's director, exclusion online is an "extension of the segregation they suffer in everyday life".
"1 in 7 people become a victim of crime every year"
Astrid Eichstätt, a representative of the Belgian equality body Unia, shared their work on the topic of hate speech: "We do not receive many complaints about hate speech based on disability. We strongly believe that this is not due to the fact that it doesn't happen, but because it is a crime that is seriously underreported."
This assumption was backed by Ruth Shrimpling from Victim Support Europe, who presented the organisation's campaign "Crime is crime. Even online.": "1 in 7 people become a victim of crime every year. But if we count crimes that are not reported, it is much, much more" – and this of course also applies to the issue of cybercrime.
Participants were impressed by the intervention of the Polish member of the European Parliament (MEP) Magdalena Adamowicz, who has started a movement against hate speech. Adamowicz explained that the topic of hate speech brought her to the European Parliament: "We must not forget that it is the perpetrators who are responsible, and to use the sanctions we have." She furthermore offered her cooperation on the issue.
The event also saw a video message by MEP Elissavet Vozemberg, Vice-chair of the Committee on Women's Rights and Gender Equality, and a contribution by EESC member Bo Jansson, member of the Section for Employment, Social Affairs and Citizenship.
Participants agreed to continue collaborating on the topic of cybercrime and safety online. All project outcomes will soon be available on the project website.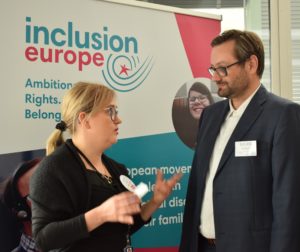 Our work brings the voice of people with intellectual disabilities and their families where decisions about their future are made.
This has always been incredibly important. It is even more so with the Covid pandemic drastic impact on their rights and lives.
Being visible and vocal on issues directly affecting millions of people requires your support. 
Become Inclusion Europe supporter and help us keep doing our work.